Attract New Customers
A 360 degree virtual tour of your business premises.
Call 01952 427 137 to book your tour.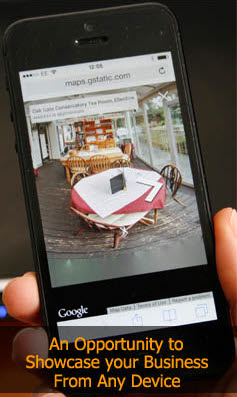 A new experience to customers
It's an opportunity to showcase your business to customers.
Google Street View technology will bring your business to life with a high-quality, 360 degree, interactive tour.
The virtual tour will be visible on Google search results, Google Maps and Google+ Local
Gives customers a better sense of the layout, decor and ambiance of your business.
Easily embed on your own website and social media profiles. We will provide you with an icon and link information.

Attract new customers online
Customers can take a panoramic virtual tour of your business - an online walk-through of your space.
Street View navigation makes it easy and intuitive for customers to see your business before visiting.
Seasonal shoots are a great way to keep your business up-to-date and show your customers what's new.
To arrange a Google Tour of your premises call JSP Media on 01952 427137 to arrange a photoshoot.
Virtual Tours
For more information click on links below