Through an initial consultation we will create for you an effective website to help you grow your business.

By creating a website that provides your customers with a portfolio of your products and services you will be able to address your customers through effective professionally written copy delivering your business message direct to your customers.

The content of your website will be search engine optimised and submitted by us to all of the major search engines so that your customers can find you on-line.
New Business Website Start Up Package will also provide you with full colour business cards giving your new brand a professional image, creating confidence in your new business.
This package includes building your Google Search Profile to help your new customers locate you.
Price excludes VAT plus Annual Hosting Charge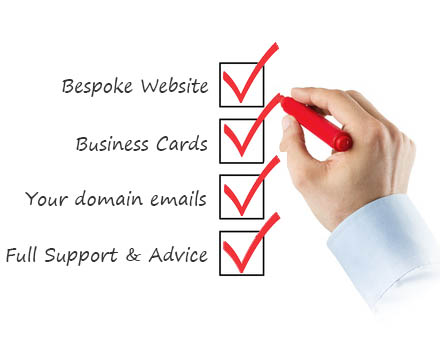 We do all the work
– we write the copy, edit your images and make sure your website is up-to-date,
carrying out any amendments and updates for you throughout the year
– letting you get on with running your own business.
Communicate with your customers with a
professional email address
by using your own business domain name, through our business class email servers.
Call or email JSP Media
to arrange a consultation and look forward to launching your business on-line.